In an important announcement, General Motors GM recently laid out a plan to invest $491 million at the GM Marion Stamping plant in Marion, IN. This is to prepare the facility for manufacturing steel and aluminum stamped parts for future vehicles, including electric cars made at various GM assembly plants.
This Indiana facility of General Motors began in 1956, making sheet metals for some of the most prominent American brands like Chevrolet, GMC, Cadillac, and Buick.
The proposed investment will be used to buy and install two new press lines and complete press and die upgrades and renovations. It will also construct a 6,000-square-foot addition. Work will start in the next four months. The current workforce at the plant is about 750 people and the addition of new work is expected to keep employment stable.
The investment marks plant development and will rev up GM's electrification progress as the demand for EVs reaches unprecedented levels. The auto magnate has previously laid out its goal of bringing 30 new EVs to the market in the next three years aims to establish a fleet of 1 million EVs in North America by 2025-end. To boost EV charging capabilities, GM and two other auto giants formed a new-managed EV charging pilot program in partnership with SMUD in August. SMUD is the sixth-largest not-for-profit electric service provider. The program will save EV customers money on utility costs to promote a balanced energy grid. The pilot program underscores GM's commitment to an all-electric future and affordable EVs for everyone.
At a conference this week, General Motors CEO, Mary Barra harped on her company's vision of making EVs accessible to all.
GM is once again up in the mass market production of EVs after it first launched the popular Chevy Bolt in 2016. Although sales responded quite well, the automaker had to recall the model in June 2021 after a series of battery issues. The model was re-introduced earlier this year.
With its second attempt at scaling up EV sales, GM is confident that it can surpass the sales of the EV king, Tesla Inc. TSLA by 2025. In June, the company slashed the price of the 2023 model of the Bolt EV and it is now the cheapest EV in the United States. On the contrary, the frequent price hikes brought by Tesla will likely give GM an edge in the competition and spur its chances of beating the top EV player in sales.
Recent development in the United States has left automakers scrambling for a share of the EV market in the country. The Inflation Reduction Act, recently signed into law in the United States, intends to enhance EV capabilities by providing manufacturers with $40 billion in tax credits. The law emphasizes that EVs eligible for such credits should be made with more American-made parts. Undoubtedly, this law has led automakers to bolster their electrification efforts in the country to qualify for the incentives. The recent investment is, therefore, a focused move by GM, like other automakers, to source EV components from U.S. soil.
Shares of GM have lost 21.1% over the past year against its industry's 2.5% rise.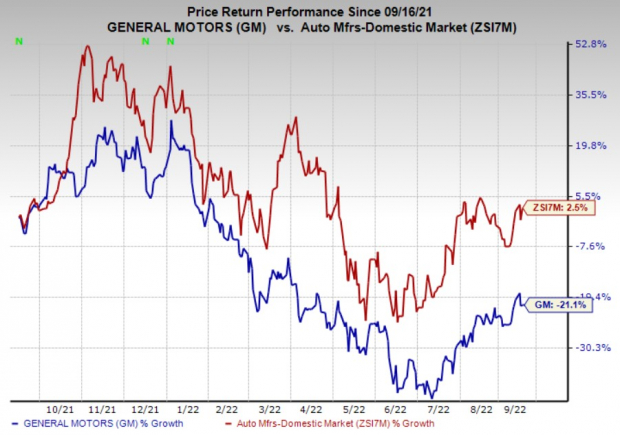 Image Source: Zacks Investment Research
Zacks Rank & Key Picks
GM carries a Zacks Rank #3 (Hold), currently.
Some better-ranked players in the auto space are Yamaha Motor Co. YAMHF, sporting a Zacks Rank #1 (Strong Buy), and BorgWarner BWA, carrying a Zacks Rank #2 (Buy), currently. You can see the complete list of today's Zacks #1 Rank stocks here.
Yamaha has an expected earnings growth rate of 1% for 2023. The Zacks Consensus Estimate for current-year earnings has been revised 11.6% upward in the past 30 days.
Yamaha's earnings beat the Zacks Consensus Estimate in three of the trailing four quarters and missed in one. YAMHF pulled off a trailing four-quarter earnings surprise of 47.95%, on average. The stock has declined 28.1% over the past year.
BorgWarner has an expected earnings rate of 2.9% for the current year. The Zacks Consensus Estimate for current-year earnings has remained constant in the past 30 days.
BorgWarner's earnings beat the Zacks growth Consensus Estimate in all the trailing four quarters. BWA pulled off a trailing four-quarter earnings surprise of 29.45%, on average. The stock has declined 13.6% in the past year.
Zacks Names "Single Best Pick to Double"
From thousands of stocks, 5 Zacks experts each have chosen their favorite to skyrocket +100% or more in months to come. From those 5, Director of Research Sheraz Mian hand-picks one to have the most explosive upside of all.
It's a little-known chemical company that's up 65% over last year, yet still dirt cheap. With unrelenting demand, soaring 2022 earnings estimates, and $1.5 billion for repurchasing shares, retail investors could jump in at any time.
This company could rival or surpass other recent Zacks' Stocks Set to Double like Boston Beer Company which shot up +143.0% in little more than 9 months and NVIDIA which boomed +175.9% in one year.
Free: See Our Top Stock and 4 Runners Up >>
Want the latest recommendations from Zacks Investment Research? Today, you can download 7 Best Stocks for the Next 30 Days. Click to get this free report
 
BorgWarner Inc. (BWA): Free Stock Analysis Report
 
General Motors Company (GM): Free Stock Analysis Report
 
Tesla, Inc. (TSLA): Free Stock Analysis Report
 
Yamaha Motor Co., Ltd. (YAMHF): Free Stock Analysis Report
 
To read this article on Zacks.com click here.
 
Zacks Investment Research
The views and opinions expressed herein are the views and opinions of the author and do not necessarily reflect those of Nasdaq, Inc.